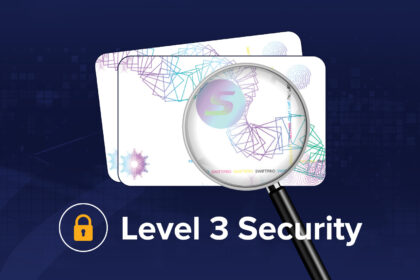 ID cards are used widely in the business world, government sector, finance, education, healthcare field, and retail market as a one-stop access point for a company. ID cards can perform a range of activities: grant employees access to company buildings, log into the company network, track and restrict visitors' movements throughout buildings, monitor employees' activity, and even pay for food in the cafeteria. With all these criteria, it's best to print your ID cards on-site using a high quality ID card printer.
Why Printing On-Site Just Makes Sense
Printing ID cards on-site saves you time and money, with fast print speeds offering a seamless check-in procedure. In-house card printing also allows on-the-spot customization for branding, photo ID printing, and other employee security classifications, such as color coding which level of employees are allowed in certain areas. Security card printers allow businesses to maintain a secure work environment, keep company confidential material safe, and handle sensitive data. Printed ID cards can incorporate embedded security features that are difficult to reproduce, along with crisp photographic images and text clarity for truer authentication.
Enhanced Security Options for Maintaining High Levels of Integrity
Swiftpro ID card printers and laminators allow you to meet increased physical security and cybersecurity needs with a range of custom overlays and laminates. Swiftpro offers three levels of security: Level 1, overt verification; Level 2, covert verification; and Level 3, forensic verification.
Level 3 card printing embeds intricate security features that require complex equipment and skill to verify. Level 3 security features are extremely difficult to duplicate, and help to prevent fraudulent use of cards in markets that need to maintain high levels of secure operations. Level 3 card security features offer enhanced verification that can be useful for confirming and protecting the identity of the card holder, protecting funds that are managed on the card, and protecting the company's resources. Applications can include credit cards, passports, government security, military ID cards, multi-use key cards, and more.
Here are five Level 3 security features available with Swiftpro card printers and laminators:
1. Achrogram
An Achrogram is a hologram that is seen as part rainbow structure and part matte white, depending on the angle the card is held. This feature is easy to identify but hard to reproduce fraudulently.
2. Micro Imagery
A micro image is a true color image or photo that is hard to scan and thus duplicate without having the original template.
3. Brick Matrix Manipulation
A Brick Matrix is a hologram that has been purposely changed structurally to create a unique fingerprint that can be verified for authenticity upon close examination.
4. Nano Text
Nano text can only be seen by using a high-powered microscope, offering a sure verification process.
5. Line Width Modulation (LVM)
Line Width Modulation (LVM) changes the width, height, and length of print lines to produce a number of varying text and image effects that are difficult to counterfeit.
Looking to upgrade? Our card printers and laminators are scalable to grow with your increasing security needs. Contact us today to discuss your card printing ID programs and security options.