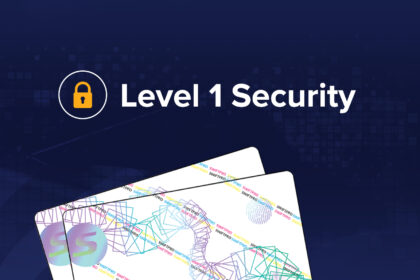 Having an ID card printer on-site at your place of business allows you to offer convenience, efficiency, and protection of confidential material to cardholders. With Swiftpro card printers and laminators, we offer three levels of card security management. This means financial institutions can ensure security when printing temporary debit cards on-site. Hospitals can print badges that track both patients and staff. Schools can protect students and safely allow visitors. Companies can better safeguard their data and their employees.
All of these safety features are offered with our badge printers' and laminators' three modular levels of security, with each level offering enhanced security. Implement all three levels in conjunction to offer your cardholders maximum protection from fraud and theft.
Let's take a look at the levels of security our card printers and laminators offer, beginning with the lowest Level 1 of card program security – overt protection. Overt card security features allow visual ID verification, which is ideal for entry-level security management. See below for Swiftpro's Level 1 card security offerings for printers and laminators
1. 2D and 3D Dimensional Hologram
Holograms offer visual security for further verification when holding a card at different angles. This high-skill printing process of combining elements to exist on different planes is both tamper resistant and difficult to counterfeit, protecting your cardholders from fraud. Our L-10 Simplex Laminator offers plain, generic, and custom hologram capabilities and pairs well with our K-series card printers.
2. Fine Line Guilloche Patterns
These precise, intricate geometric patterns create the illusion of animation. With this complexity, attempted scanning is out of the question, due to the impossibly large computer memory required. This prevents cards with Guilloche patterns from being forged or replicated.
3. High Resolution Lines with Kinetic Effect
This security feature makes thin printed lines light up in a row depending on the card viewing angle, creating the illusion of movement. This effect boosts security for your badge holders by adding yet another layer of verification and uniqueness.
4. Matte Finish
A matte finish on your ID cards means that printed ink absorbs into the porous surface, making it permanent. Not only does this prevent smudging or bleeding, but it also stands up to very close visual inspection, as tiny textures become visible and verifiable.
5. Wireframing
This complex capability, added at the personalization stage of printing, allows words and objects to be outlined to create different effects, and thus enhance security even further.
Level 1, or basic ID card security, is primarily visual, and is useful for membership cards, visitor badges, basic student ID's, and more. Ready for enhanced card security? Click here to contact us, email us at sales@swiftpro-printer.com, or call us at 732-271-7369.