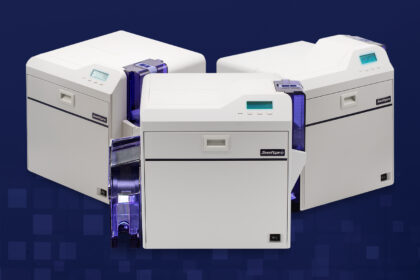 Which K-Series Printer is a Match for You?
Swiftpro K30: 300 DPI single-sided printing. Print 120 cards per hour. Smart card encoding available.
Swiftpro K30D: 300 DPI double-sided printing. Smart card and magnetic stripe encoding.
Swiftpro K60: 600 DPI double-sided with customizable UV and patch/overlay security features. Magnetic, contact IC, RFID encoding.
An optional laminator add-on is available for all models. Whatever model you choose, we are still the best retransfer printers in the business, with proven reliability and superior print quality.
Industry Highlight: Business
Print employee photo ID cards with time tracking and physical and logical access integration. Implement contactless safety features that protect IT assets for employees working from home or on-site in high security facilities.