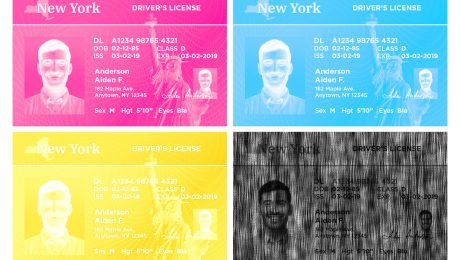 Security Erase function (patented) – Security Erase prevents leakage of personal information on the ink ribbon. It scrambles information beyond recognition to protect your data.
2-Dimensional Hologram – A hologram is a light diffracting image that exhibits dimensional characteristics. When turned or viewed from a variety of angles, the image appears to move or change.
Guilloche Printing – Guilloche patterns combine complex line detail in an animated wave pattern.
Kinetic Patterns – Kinetic patterns are a series of complex, straight lines or shapes. As the viewing angle of the card is changed, the kinetic image moves across the card, giving it the effect of motion.
2-Channel Image (Flip Image) – A holographic optical feature that consists of two distinct images (art or text) that occupy the same space within the hologram and then shift from one image to another.
Latent Image (Ghost Image) – A holographic optical feature that consists of an image or repeating text pattern and is originated into the hologram so that it only refracts light and is visible at an extreme viewing angle.
Pseudo Color – A holographic optical effect that allows for the assignment of approximate coloration to holographic artwork, thus the image appears in near "true color" at a specific viewing angle.
Microtext – Fine text printing that is not visible to the naked eye.
UV and/or Mica Flip Ink – Under a UV or black light, UV ink fluoresces bright blue. Under normal light, mica ink will shift colors at different viewing angles.
Laser Retrievable Covert Text – Covert text is embedded into a custom hologram OVD or custom guilloche OVD. This allows an examiner to reveal and read a text message using a standard red laser pen.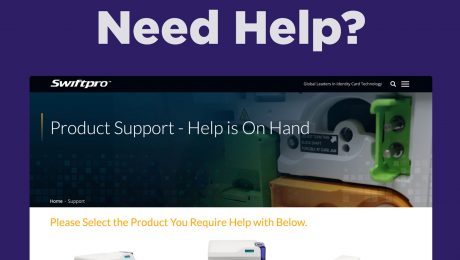 Need support with a specific product? We make it easy to find drivers, manuals, and answers to frequently asked questions on our website.
Click here to visit our Support page, and then choose the product that you need help with. Once on the product page, scroll down to view the downloads and FAQ. Drivers are provided in .ZIP format – simply unzip to see the contents of the folder. Manuals are provided in PDF format and can be easily viewed on your computer or printed out if needed.
In addition, we provide answers to common questions underneath the Manuals section. We realize that sometimes issues come up that aren't covered here, so feel free to contact us by filling out the form at the bottom of the page.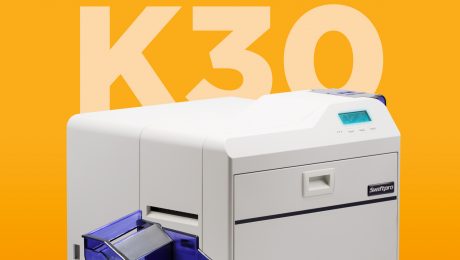 The Swiftpro K30 retransfer card printer has outstanding print quality for single-sided printing with 300dpi printing density.
It's the ideal solution for businesses requiring high-quality identification cards, passes, and badges with personalized access management.
This printer prints single-sided (if you're looking for a double-sided option, try the K30D) and can print 120 cards per hour. In addition, several security features are offered. The Security Erase function (patented) prevents leakage of personal information on the ink ribbon, scrambling information beyond recognition to protect this data. For network security, the printer supports IPSec (IPv6 / IPv4). Encryption protects personal information on a network.
If you're interested in a Swiftpro K30 printer, click here to send us a message.