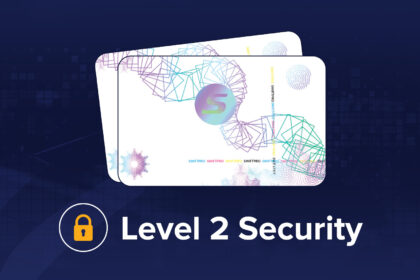 Looking for a way to bring enhanced security to your ID and entry card program? These days, high quality smart cards printed on-site with Swiftpro card printers and laminators are used for accessing corporate buildings, authenticating entry, and accessing the company network. If your business is facing rising requirements to protect sensitive material and adhere to stringent safety standards, we're here to help.
Our card printers are built to grow with your security needs, from entry level to advanced. Laminators are an optional add-on module for K-Series card printers that enhance physical and cybersecurity in one on-site solution. When used in conjunction, these systems offer not only enhanced durability, but also three additional levels of security to your cards during the print process by making use of custom overlays and laminates with hologram options.
Here are the authentication effects offered by our Level 2 card printing and lamination capabilities, along with an explanation of each feature:
Microtext
Our retransfer card printers deliver outstanding print quality for fine text printing that is not visible to the naked eye, enabling added ID card authentication.
2 or 3 Channel Switch Effect
With a switch effect, different holographic images appear when the ID card is shifted and viewed at different angles for verification.
90-Degree Viewable Element
With this security feature, an invisible image becomes visible only when the ID card is viewed from a 90-degree angle.
Embossed Effect
This option creates the illusion of embossing within a hologram to make your ID cards difficult to counterfeit, especially when used in tandem with easily recognizable images.
Latent Effect
With a latent effect, when a point light shines directly onto an ID card, images and characters refract light at an acute angle. This creates the illusion of characters or letters moving, which is yet another card feature that is not easy to replicate.
True Coloring
Correct coloration of an image appears only when the ID card is viewed at a particular angle. At all other angles, the image moves through the color spectrum, offering an easy method of authentication.
Single Axis CLR
Covert Laser Retrievable (CLR) images are viewable only when holding a laser to the card. The effect is a refracted projection onto paper held at a right angle to the hologram.
Dual Axis CLR
This covert security feature is similar to Single Axis CLR, but instead projects two images on different axes at 90-degree angles from one another.
Ready to amp up your security? Let us help you evaluate your program needs to find the solution that's right for you! Contact us today at sales@swiftpro-printer.com or call (732) 271-7369.