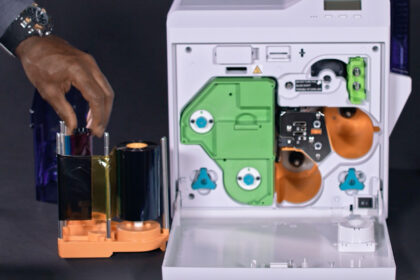 These days, the demand for security is greater than ever. Swiftpro's card printers offer encoding technologies for your identity card programs to protect your sensitive company info, employees, and data.
Security features include: dye-sublimation UV printing, Security Erase function to scramble data, contactless IC, 1D and 2D barcodes, additional magnetic stripe encoding, and more.
Setting Up Your Printer
Steps to set up your new Swiftpro printer:
Open front cover and remove the orange ribbon cassette. Load the ribbon and wind the spool.
Next, remove film cassette and load the film. Close the cover.
Lift card cover, insert cards, and lock. Attach output hopper and power on – you're ready to print!