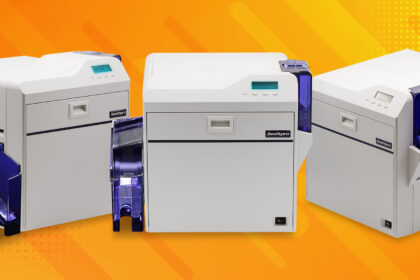 Explore what onsite ID card printing with Swiftpro can do for you. An optional laminator can be added for all models.
Swiftpro K30: Print 120 single-sided cards per hour at 300 DPI. Smart card encoding available.
Swiftpro K30D: Double-sided printing at 65 cards per hour and 300 DPI. Smart card and magnetic stripe encoding.
Swiftpro K60: 600 DPI with customizable UV and patch/overlay security features. Magnetic, contact IC, RFID encoding.
Add On an L10 Laminator
Our L10 laminator is the ideal partner for our printers, providing enhanced durability and longer card lifecycle with single-sided lamination. Using a thermal transfer lamination application, the L10 offers clear, generic or custom hologram overlay options.