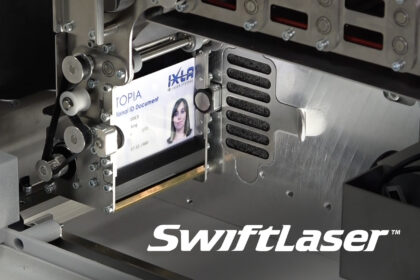 From government to the private sector, security and identity verification needs have changed rapidly across all markets. Clinics and corporations, financial institutions and universities face a growing need for enhanced security and advanced technologies, while embracing a move from paper to digitized processes that can be validated and tracked.
As a long-standing expert in retransfer technology, Swiftpro has answered the call with an industry first: SwiftLaser. Our SwiftLaser printer solution offers innovative laser personalization representing over 50 years of combined technology globally. This laser module, manufactured by world leaders in desktop laser systems, pairs with your Swiftpro retransfer printer and laminator to produce custom holographic laminates for new levels of security and enhanced durability.
Safely Transact, Work Efficiently and Securely
The SwiftLaser system uses laser emissions to mark both the front and back of cards with precise personalization. The laser module can engrave in sub-surface, tactile, and micro-text, as well as on MLI cards. It is packed with state-of-the-art plug-ins such as database, magnetic, contact, and contactless smart card encoding to cater to all levels of card security and durability.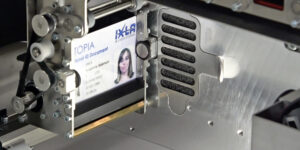 Versatility, Sustainability, Reliability
Our modular system means you can build out your program as your needs change, easily upgrading to the 1200 DPI SwiftLaser card personalization module.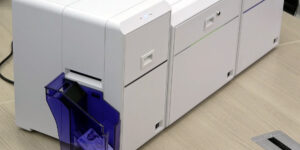 Like our card printers and laminators, the laser module is easy to use, operate, and maintain with minimal downtime. Exactly what you need for on-site card programs that need to work reliably, right when you need them.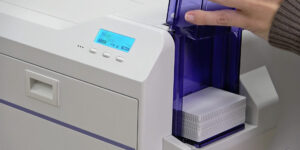 SwiftLaser Applications
The SwiftLaser printer solution offers enhanced security and personalization to all markets implementing card programs:
National and Local Government: Authenticate and authorize identity credentials on-site for military, drivers license, voter, immigration, and government employee identity cards.
Finance: Incorporate encoding technologies for printing credit or debit cards on-site that ensure secure transactions and protect customer data any time, anywhere.
Business: Encoding plus personalization offers an audit trail for accountability and fraud prevention on-site and online.
Healthcare: Implement vaccine card programs that track and manage patient records within or outside facilities.
Schools and Universities: Add laser customization to existing cards to verify updates, access levels, and immunization records.
Laser Engraving Specifications
1200 DPI laser engraving
6W laser type air cooled DPSS laser source
Single and double side laser engraving
Up to 90 cards per hour and laser personalization single-sided, depending on card material and print density and card coverage of print data
Mechanical security locks for the module and reject bin access
Call us at 732-271-7369 or contact us today at sales@swiftpro-printer.com to incorporate laser technology with your color printing and custom laminating card programs.