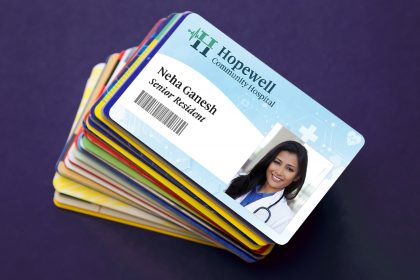 Want to project a professional image? Don't let a household printer and paper represent your brand.
Education, finance, government, healthcare, retail, and transport sectors all regularly require on-site ID card printing for identification and security.
From functionality to quality, there's a significant difference between PVC card printing and inkjet card printing. When trying to choose a printer, it helps to understand the process involved in both PVC printing and traditional inkjet printing.
How Does PVC Card Printing Work?
Polyvinyl Chloride (PVC) is a strong plastic material used in professional ID card printing. This material offers a smooth finished surface, meaning that color and branding details show up vividly.
Retransfer printers print onto the reverse of clear film that is thermally bonded to the card. The retransfer process brings image consistency and precision to printed ID cards, including double-sided prints. In addition to enhanced security, this process offers "full bleed" edge-to-edge printing, even on uneven surfaces like smart cards and embedded modules.
Inkjet Printer Limitations
By contrast, inkjet printing is water-based. Regular inkjet printers will not print on standard PVC plastic cards without smudging. After printing is complete, the ink sits on top of the ID card, opening the door for easy removal and potential fraud.
Recently, a few suppliers have started offering inkjet PVC card kits, designed to allow ID card printing with an inkjet printer. These kits come with special inkjet-specific PVC cards and a replacement tray that works in conjunction with an inkjet printer. But despite claims, inkjet kit card printing is severely limited.
Comparing the Differences
Firstly, inkjet card kit printing simply lacks the security of PVC ID card printing. Swiftpro printers offer both contact and contactless smart card encoding. A patented Security Erase function means confidential information won't leak onto the ink ribbon. By contrast, inkjet card printing is known to leave behind ink, requiring a wipe-down between prints to keep ink from bleeding onto new cards. Holograms are another feature offered by Swiftpro printers that add an extra layer of security to cards.
In terms of speed, inkjet card printing kits allow only 1-2 cards to print at a time. By contrast, our Swiftpro K30D retransfer card printer prints 65 double-sided cards per hour with an output hopper capacity of 100 cards. For universities printing student ID cards, government entities printing driver's licenses, or corporations managing visitor entry, efficiency is essential.
In addition, while inkjet printing is fine for paper, the quality of card printing via inkjet is lacking. Inkjet cards often leave behind a sticky residue and images may fade, blur, or skip. The Swiftpro K60 card printer prints at 600 DPI, allowing high-resolution precision, and even microtext printing for added security.
Boost Your Image with Superior ID Card Printing
First impressions can make or break a business, and your company ID cards reflect your image everywhere you go. Don't trust a household inkjet printer and paper to represent your brand. Project a professional image with an in-house Swiftpro ID card printer.
Ready to ditch sub-par printing for your business? Choose Swiftpro's 30 years of experience and let us help you find the card printer that fits your business needs! Email us today at sales@swiftpro-printer.com or call us at 732-271-7369 to learn more.