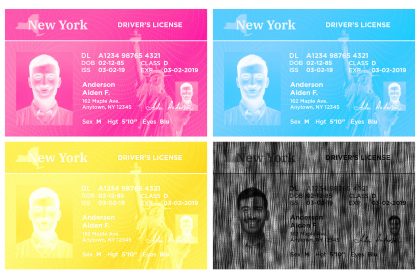 Security Erase function (patented) – Security Erase prevents leakage of personal information on the ink ribbon. It scrambles information beyond recognition to protect your data.
2-Dimensional Hologram – A hologram is a light diffracting image that exhibits dimensional characteristics. When turned or viewed from a variety of angles, the image appears to move or change.
Guilloche Printing – Guilloche patterns combine complex line detail in an animated wave pattern.
Kinetic Patterns – Kinetic patterns are a series of complex, straight lines or shapes. As the viewing angle of the card is changed, the kinetic image moves across the card, giving it the effect of motion.
2-Channel Image (Flip Image) – A holographic optical feature that consists of two distinct images (art or text) that occupy the same space within the hologram and then shift from one image to another.
Latent Image (Ghost Image) – A holographic optical feature that consists of an image or repeating text pattern and is originated into the hologram so that it only refracts light and is visible at an extreme viewing angle.
Pseudo Color – A holographic optical effect that allows for the assignment of approximate coloration to holographic artwork, thus the image appears in near "true color" at a specific viewing angle.
Microtext – Fine text printing that is not visible to the naked eye.
UV and/or Mica Flip Ink – Under a UV or black light, UV ink fluoresces bright blue. Under normal light, mica ink will shift colors at different viewing angles.
Laser Retrievable Covert Text – Covert text is embedded into a custom hologram OVD or custom guilloche OVD. This allows an examiner to reveal and read a text message using a standard red laser pen.