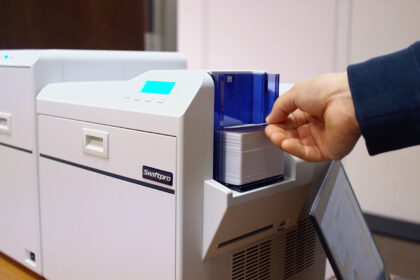 The K60 ID card printer brings sharp imagery and crisp text to your on-demand badge printing. Plus, choose from multiple encoding options to suit your security needs: magnetic, contact IC, and RFID, with the option to add a Swiftpro laminator module.
Learn more about the K60 here.
Add On a L10 Laminator
Partner a Swiftpro ID card printer with the L10 lamination module to achieve maximum durability and security. The L10 is the ideal partner for our printers, providing enhanced durability and longer card lifecycle. Using a thermal transfer lamination application, the L10 offers clear, generic or custom hologram overlay options.