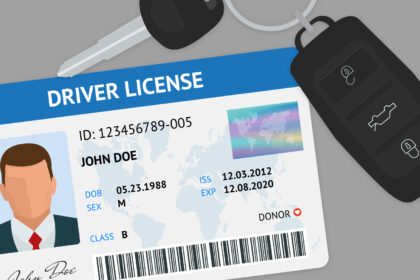 Now more than ever, industries and governments are pressed to increase card security. These days, a single card represents a slew of information and permissions: physical access, identification, and access to funds. With greater functionality comes the need for added card security. The demand then is a durable, multi-technology card with intricate visual security and complex, hard-to-replicate features.
Our Swiftpro card printers and laminators offer a range of options in creating highly secure ID card programs for corporate, government, finance, healthcare, and education markets. From Optically Variable Ink (OVI) technology to hologram technology, find the sophisticated security features that meet your program's needs.
OVI Technology
Optically Variable Ink (OVI) is an overt high security technology that works using color shifting ink. Under normal light, ink will shift colors, displaying two distinctly different colors depending on the viewing angle of the ID card.
OVI uses specialized printing techniques with multi-layer interference filters and high-security inks to attain its effectiveness. The ink is best described as mica-based glitter, colored magnetizable inks that make color appear to change when pearlescent pigments are viewed from different perspectives.
Counterfeit Protection
OVI is an ultra-secure technology that's difficult to forge and not widely available. It's likewise effective against duplication because a copier or scanner can only copy at a fixed angle, failing to capture both colors.
The authentication process involves using the naked eye, with no need for special tools. The evaluator must be educated in the card's security features, and perform a set procedure to evaluate the card for authenticity.
Applications
OVI is printed directly onto the ID card. This provides an excellent method of document and card protection for creating modern banknotes, licenses, government documents, national identity cards, certificates, government ID cards, permits, and deeds.
OVI can be useful for consumers wishing to see visual proof in their card that their identity and financial information is protected. OVI can be effective for companies granting logical and physical permissions to varying levels of cleared employees. OVI can also be useful in government applications where cards and documents need to be highly secure, granting access to drive, cross borders, prove immunization, vote, and gain access to secret information.
Hologram Technology
A hologram is an overt security measure that has a three-dimensional appearance that is applied to a two-dimensional ID card surface.
Hologram designs can be wide-ranging, offering various levels of security, ranging from visible to the naked eye to requiring special equipment to verify.
Counterfeit Protection
A hologram is produced by hot-stamping foil or embossing onto the laminate of a card. It's virtually impossible to remove this type of stamp from its substrate, making hologram technology an effective deterrent against tampering. When authenticating, a trained evaluator must follow a certain process to determine a card's validity, which can include examining overt, covert, and forensic security levels. Holographic security becomes even more effective when combined with another security feature, such as a custom logo, microtext, or intricate design.
Here are some of the security features available to incorporate in your card programs with your Swiftpro ID card printer and laminator:
Security Features: Cards
2-D Holographic Foil: Producing a two-dimensional image by recording onto a photographic plate, then using a laser beam to illuminate the pattern.
Linear Kinetic Effect: This effect makes the image only visible from a specific viewing angle.
Circular Kinetic: Animation of a two-dimensional holographic image where bands of color appear to radiate.
Grayscale Image Effect: A holographic image appears grayscale.
Security Features: Laminate
2-D/3-D Holography: A two-dimensional image is placed in the foreground, with another two-dimensional image in the background to give the illusion of depth.
Fine Line Printing: Also known as guilloche printing, these complex fine lines can be incorporated with holograms for added security.
Two Channel Image: One image changes to another image immediately when the ID card is rotated from left to right.
Vertical and Horizontal Gradient Holography: A holographic image animates, radiating bands of color either horizontally or vertically.
Pseudo Color: The image's true color is only visible from a certain fixed viewing angle.
Hidden Imagery: A hidden image is placed in the micro-structure of the hologram, invisible to the naked eye, but revealed with the use of a laser.
Morphing: A gradual shift from one image to a second image as the viewing angle is rotated left to right.
Applications
Holographic technology is especially suited to producing secure cards, banknotes, security documents, labels, credit cards, employee badges, physical access cards, digital access cards, and high security employee badges. The visual nature of the holograph gives consumers assurance that they're using a secure product. And the sophisticated printing techniques add layers of protection that can be verified according to a set process. This offers applications from financial institutions to government entities to universities, medical environments, and corporations.
In addition to their separate uses, high-security OVI inks can be combined with hologram technology to create even greater deterrent against fraud. Contact us today at sales@swiftpro-printer.com or call us at 732-271-7369 to develop a card program that meets your increasing security demands.