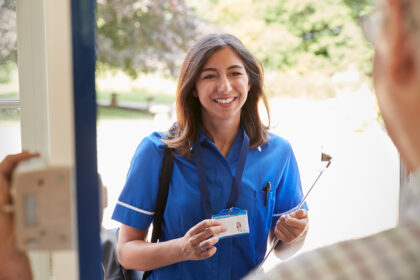 Security and safety remain a primary focus in hospital management, perhaps now more than ever.
Hospitals bear a tremendous responsibility to safeguard their patients and employees. An effective access management system plays a critical role in HIPAA compliant privacy regulation, safe patient handling, minimizing risk of injury and illness, and violence prevention.
Swiftpro printers and laminators offer the full-scale access control solution your hospital needs to keep all of these moving pieces running smoothly. Here are 4 security capabilities your hospital can offer when printing cards and badges at your facility.
1. Print visitor badges on-demand
Implement a visitor management system that streamlines day-to-day processes and increases efficiency. With a Swiftpro ID card printer, your front desk staff can print visitor badges on-site as soon as visiting doctors, nurses, and contractors arrive. Fast print speeds allow you to regulate visitor flow quickly and concisely. Visitor tracking lets you record sign-in and sign-out times for each card holder.
2. Security features for visitor access control
An on-site identity card printer management solution is one of the most efficient tools hospitals use for tracking visitors within the facility. Swiftpro printers allow you to print your hospital's logo and the visitor's photo on each badge quickly, along with barcodes, text, and numeric values needed for security and regulation. Custom, on-demand printed IDs allow you to control visitor access points and minimize fraudulent use. Restrict access to sensitive and hazardous areas containing medicine and equipment. Protect your vulnerable patients and know who is in your facility with customizable visitor badges. 
3. Personalized staff access management 
Print employee badges on-site that grant both physical and logical access where needed. Swiftpro's line of printers and laminators let you tailor your employee access management to validate identity, give authorization, and ensure accountability. With a single ID card printed on-site, you can enable staff access to required areas, and restrict access to unauthorized areas. Bold, vivid printing allows you to color code and designate permissions and titles that can be easily recognized.
Far beyond the capability of a mere photo ID, on-site printed cards can also be used to give access your hospital's network. Easily grant computer login and access to patient records, while retaining the ability to quickly disable badges when necessary, such as when an employee is terminated.
Personalized badge printing with a Swiftpro printer deters counterfeit card attempts. High definition printing offers crisp and accurate portrayal of ID images. UV fluorescent ribbons offer additional layers of protection and verification. A Swiftpro laminator provides additional security, offering holograms, Guilloche patterns, microtext, and true coloring.
4. Safeguard against infection spread with contactless card technologies
Maintain safe social distancing with contactless visitor verification. Touchless smart card encoding offers an additional level of safety by minimizing germ spread. Digital unlocking lets badge holders move throughout buildings without touching door handles.
Hospitals can also use cards printed on-site for managing contactless payments in the cafeteria, coffee huts, and gift shops. Barcode printing and other features offer a touchless scan option for parking garage entry, or magnetic stripe encoding for enhanced security.
For more information about how Swiftpro's line of printers and laminators can help secure your medical facility, please email us at sales@swiftpro-printer.com or call 732-271-7369.