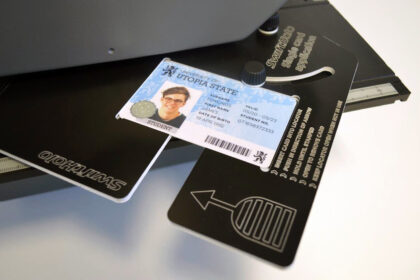 Introducing a new level of security. SwiftHolo is a security feature you can add to cards you're already printing in-house for quick, reliable authentication.
Swiftpro card printers already offer high levels of security such as microtext printing, smart card encoding, and laminate overlays. We're now offering a new high visual impact public recognition feature that can be added to your in-house printing process. SwiftHolo is an identity card embossing feature that elevates the security of any plastic card, with the ability to customize to your brand and purposes.
The SwiftHolo Difference
This embossing feature can move your university, local government office, or employee badge station from in-house card printing to a process that prints, stamps, and secures in a single operation. This can be useful for many applications. For instance, an embossed holograph can be added to existing student ID cards, employee badges, or driver's licenses after verifying receipt of the COVID-19 vaccine. The customizable embossing feature can likewise be useful in updating ID cards to reflect newer years of issuance or updated levels of security granted to an employee.
SwiftHolo Embosser
The SwiftHolo equipment itself is easy to use and is based on a reliable design that was first launched in 1998. It's a highly secure anti-jam system that is compatible with the entire Swiftpro product range.
The technology is already in place across the world in government offices, airports, and embassies. This add-on card security feature design offers new safety and regulatory applications in a post-pandemic world that demands higher levels of security than ever before.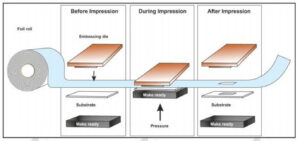 How it Works
The SwiftHolo security embosser applies a transparent hologram, directly embedding branding and security features onto any card. The hot stamping process is an impact printing process using pressure, contact time, and heat to transfer.
The hologram embedding process uses metallic hot stamping foils with high-definition microstructures embossed in the surface to provide high-quality fine detail for both branding and verification. Potential fraudsters would need both the hologram microstructure and die technology to attempt replication, making counterfeiting highly unlikely.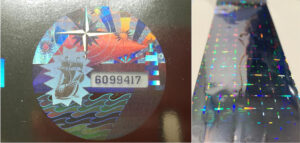 Multi-Level Security
SwiftHolo works with intricate card design to offer total security with multi-level authentication:
Level 1 authentication is overt, using visual imagery for quick, at-a-glance authentication
Level 2 authentication is covert and more sophisticated, requiring more detailed examination using tools such as magnification or a pin light.
By applying this feature on-demand, you control the issuance of the embossing hologram feature and you can likewise guarantee its authenticity, translating to increased security.
You can also customize the SwiftHolo security feature to your changing needs. Variable data printing reduces counterfeiting and lets you add new seals to designate newer versions of authentication. This highly refined technology replaces older manual hand-stamping, wax seals, and surface level seals that were much less reliable and more subject to fraud.
SwiftHolo Applications
Applications are many and wide-reaching. Consider newer applications, such as being able to apply a custom embossed hologram to student and staff university cards upon verifying they've received their coronavirus vaccine, or timeless applications such as upgrading an employee's badge with an embossed hologram displaying the company logo and year once they attain advanced levels of security access. With a combined card printing and embossing process on-site, you can confirm the identity of the cardholder, the validity of the card, and the level of security afforded the cardholder, all at a glance, with additional authenticity upon further investigation.
Adding a SwiftHolo security feature to cards can be done at the time of printing the ID card on your Swiftpro printer or at a later date, on-demand, as needed. Take a look at some of the other applications for your business or institution:
Vaccine verification – added to ID card, badge, or driver's license
Visa issuance and validation
Employee ID cards for high security like airports, police stations, and government facilities
Verify new years of issuance, such as for college and university ID cards
Granting and verifying employee access to restricted areas in hospitals and health facilities
City and government use
National ID cards
Driver's licenses
To learn more about how a SwiftHolo embosser can elevate your card programs to new applications, fill out our contact form, email us at sales@swiftpro-printer.com, or call us today at  732-271-7369.