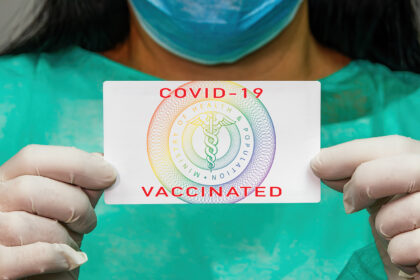 Are you working on a vaccine card / certification program for your business or institution? We offer a number of solutions that offer a quick turnaround time and high-security reliability. Swiftpro vaccine record solutions can be used to display and verify administered COVID-19 vaccines for employees, students, and other individuals with efficiency and accuracy to promote healthy vaccination programs worldwide. Our high-security COVID-19 vaccine cards and certificates are ideal for government health program, workplace verification, school staff, universities, and more.
At Swiftpro, we specialize in innovative solutions designed to offer the best in security and reliability. Work with us to create a vaccine card program for your business or institution. Options include:
Option 1: ID Card Overlaminate (PATCH) with Custom Holographic Design
With this option, ID cards can be overlaid using your Swiftpro printer and laminator to create a holographic patch. This overlaminate includes multiple hidden security features, making the PATCH easy to verify, and extremely difficult to duplicate. Our PATCH is an ideal extension of company badges, government-issued IDs, Ministry of Health or CDC use, or student and staff ID cards.
*Note: Holographs can also be customized with an optional invisible UV ink using your company name or logo. Note that this will require a longer lead time.
 Benefits: By pairing an existing ID card with a custom holograph design, it's easy to match the identity of the cardholder with the tamper-resistant vaccination patch and quickly verify that an individual has been vaccinated with great accuracy.
Option 2: Print on Demand Paper Document Solution
This vaccine record certificate is made of secure paper stock with high security printing including invisible inks, guilloche patterns, and other effects to prevent fraud and duplication. These materials can be personalized with conventional printers or a pen to include information such as patient's name, administering doctor's name and license number, or date and type of vaccine used. Our on-demand record certificates are ideal for quick issuance at clinics, student health centers, hospitals, doctor's offices, government facilities, and more.
*Note: Further customization options are available. Note that this will require a longer lead time.
Benefits: With easy-to-fill-out fields, the record card is ideal for mass distribution, while still maintaining advanced security features that are extremely difficult to duplicate.
Other Options: Stickers, Labels, Barcodes, and QR Codes
We offer a number of other high-security vaccine record program options. Contact us today to find out more.
Pre-engineered tamper-evident ID card vaccine sticker
Tamper-evident metalized holographic labels
Barcodes
Serial numbering
QR code for track and trace purposes
Vaccine Card Program Benefits
Our vaccine card program provides a number of benefits for the institution or business concerned with safety, accuracy, reliability, and speed of issuance. Our COVID-19 vaccine card solutions offer:
Quick verification
Quick turnaround times (for standard cards)
Hologram for added security (for use with Swiftpro printers and laminators)
Off-the-shelf or custom vaccine cards available. *Note that off-the-shelf cards reduce lead times and are typically sufficient for vaccine programs as issued.
Let us help you find the right COVID-19 vaccine card solution for your business or institution. Contact us here or call us today at 732-271-7369.