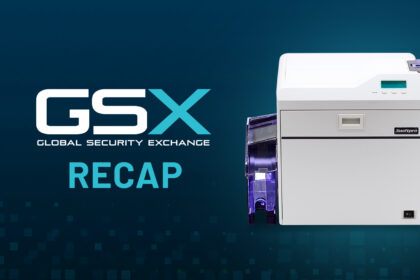 Thank you to those who visited our booth at GSX 2022.
Here's a recap of the products featured:
Print single-sided text, barcodes, numeric, and logos at 300 DPI with the K30, or sharp imagery, text, and microtext at 600 DPI with the K60. Smart card encoding options and laminator add-on available.
Utilizing 600 DPI resolution print head technology and a host of customizable options, the 201+ card printer and optional laminator are a clear choice when quality, durability, reliability, and security are necessities.
SwiftColor's oversized credential card printer. Print bold 1200 DPI to paper and PVC on demand at blazing fast speeds! Ideal for oversized badges for tradeshows, sports and stadium events, college events, and more.
Congratulations to our Giveaway Winners!
iPhone 14: Brian Bohn, DHL
AirTags: Michael Thomas, American Axel; Jeff Lukas, Gentex; Brian Wisneski, Pfizer
Interested in more information?
Reach out to us at sales@swiftpro-printer.com or call us at 732-271-7369.
Thanks to all those who stopped by our booth, and if you didn't attend, we hope to see you at our next event!